Hotel Reservation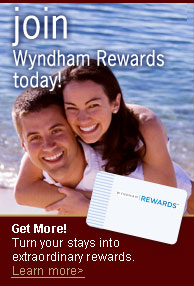 The Most Centrally Located Grand Junction Hotel
Grand Junction is a unique city of the American West that is surrounded by seven National Parks and Forests between the Alpine Forests of Colorado and the Canyonlands of Utah. Located in the heart of Colorado's wine country less than three miles from Grand Junction Regional Airport, Ramada Inn offers the most convenient Grand Junction lodging.
Within walking distance you'll find over a dozen fast-food and full-service restaurants. Mesa Mall is three miles west, Two Rivers Convention Center is three miles south, Mesa County Fairgrounds is seven miles south and a short picturesque drive can take you to any of 18 award-winning wineries.
Local Events in the Greater Grand Junction Area
The greater Grand Junction area features a wide array of entertaining and cultural events throughout the year. From family friendly activities, outdoor outings and art exhibits to concerts, nightclubs and wine tastings, our fair city is filled with an interesting mix of fun things to choose from. Search through our events blog for things to do when vacationing in Grand Junction, Colorado.
Date posted: 09/30/2011
Tags: beer; live music; fruita events; bikes; grand junction events; colorado events;
Bands, beer and bikes. Sounds like a great trio, right? Fruita, Colorado is holding a unique event this October that allows visitors to partake in all three during one weekend. On October 14-15, get ready to dance, eat, run and bike!
---
Date posted: 08/31/2011
Tags: entertainment; arts; crafts; live music; Grand Junction; Colorado; free food; fruita events;
Those residing in or visiting the city of Grand Junction, Colorado can welcome this fall with the Fruita Fall Festival on September 23-25, 2011. The Fruita Fall Festival is more than just your typical arts and crafts fair with a youth pet and talent show, a parade, the legendary bed race and a...
---
Date posted: 07/27/2011
Tags: wine; festival; Grand Junction; Colorado; Palisade;
Join wine connoisseurs from all over as they gather to celebrate the 20th year of the Colorado Mountain Winefest. Fine wine and food lovers from all over the world make their annual pilgrimage to Palisade, just east of Grand Junction, to celebrate all things wine from...
---
Date posted: 06/30/2011
Tags: Grand Junction; Colorado; Bicycling; Rocky Mountain;
Come and enjoy the amazing nature and breathtaking sights of Colorado as you join hundreds of others in a group bicycle ride through the mountains of the Grand Junction area. This is your chance to take part in a challenging, entertaining, and safe trip through some of the most beautiful...
---
Date posted: 05/25/2011
Tags: music; contest; Grand Junction; Country; camping;
Enjoy some of country music's top artists as they put on ground-stomping and crowd-pleasing performances that will last over an extended weekend. The Country Music Jam is in Grand Junction, Colorado from Thursday, June 23 until Sunday, June 26. The lineup includes such popular names as...
---
Date posted: 04/22/2011
Tags: music; Outdoor Event; Family Event; Grand Junction; Colorado; Arts & Jazz Festival;
It's time to throw on your dancing shoes, start feeling the blues and join the thousands of people who will be attending the annual Art & Jazz Festival in Downtown Grand Junction, Colorado.
Anaheim : stars on ice 2017
---
Bonnie Raitt don't let a head chilly or a some misrepresented stage impacts
phenomenon 21 Savage is back in new tour for his pupil
Marine Gps